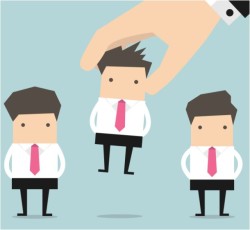 One of the hottest ongoing debates in the field of executive recruiting is whether recruiting efforts are better handled by inside recruiters or whether it's preferable to outsource the function to executive search firms, which maintain singular focus and expertise on the recruiting function.
The survey concludes that executive search firms are favored by the large companies.
Among the survey's other major findings:
#1 Executive search firms are sourcing a solid majority (59 percent) of the executives joining the large companies.
#2 A majority of the large companies (53 percent) maintain internal executive recruiters, and the primary reason companies to do so is a perception that inside recruiters will ensure a higher quality hire.
#3 Among the companies without an internal executive recruiting function (47 percent), a lion's share (89 percent) reported that insufficient internal resources were the primary reason for utilizing executive recruitment firms.
The full survey is available here. It includes inspiring insights from SVP HR, VP Executive Recruiting and headhunters complemented by a set of best practices for inside executive recruiting by consultant Caroline McClure.