The social media site Twitter is now utilized by over 300 million people worldwide.  Its vital role as a component of a company's corporate brand and messaging is beyond dispute. There are plenty of indications the influence and users of Twitter will continue growing substantially in years to come.
While most corporate Twitter presence to date has been through company-specific accounts, corporate executives also begun taking to Twitter.  The messaging of corporate executives on Twitter differs.
Some use it to share only news related to their company and their professional activities. Others use it to share broad industry knowledge—and even a joke or two—in the hopes of offering something constructive to public understanding and discussion of industry and business topics.
All of them presumably use it to leverage this new medium for the purpose of building loyal followings and communicating vital messages.
But who are the executive trendsetters on Twitter who others can look to as examples for successful executive Twitter management and social engagement. To be sure, there are thousands that we follow at The Official Board.
But we found these five especially instructive and successful:
1.)    Jack Dorsey, Interim CEO, Twitter (@Jack), 3.14M followers: Dorsey, who is also a co-founder of Twitter, likely has the most developed vision for how Twitter fits into modern communications.  So what can be learned from his own Twitter?  Dorsey frequently retweets others, both from inside his own company and outside of it.  He also has a healthy balance between the serious and not so serious (funny or just plain interesting) tweets and retweets.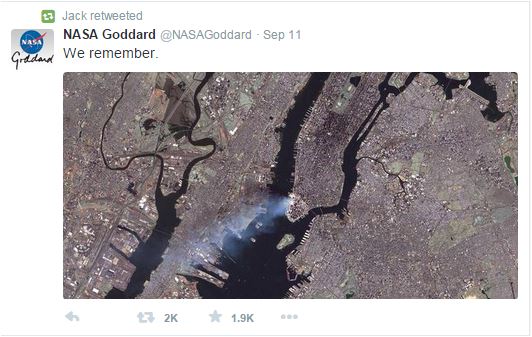 2.)   Tim Cook, CEO, Apple (@tim_cook), 1.8M followers: Cook posts less frequently to Twitter than do other executives, usually every third day or so, and his posts range from the professional to the political to the personal.  Followers will find posts related to technology, professional inspiration, developments at Apple Inc., environmental policies, and even the football program of his alma mater, Auburn University.  Like other executives with large followings, Cook is generous with the inclusion of photographs, which appear in roughly half of his posts.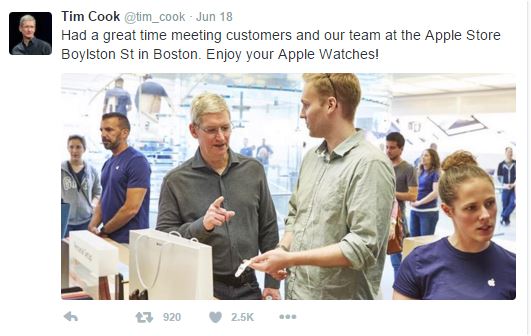 3.)  Elon Musk, CEO and CTO of SpaceX (@elonmusk), 3.0 M: We are aware of only one major business executive whose Twitter photo features them holding a violin, and on that basis alone Musk may warrant inclusion in our list.  Musk's following in excess of three million exceeds that of the vast majority of global business executives, and his posts are a combination of SpaceX developments, current events (especially in science), and retweets of others (again especially including companies and individuals prominent in the fields of space and technology).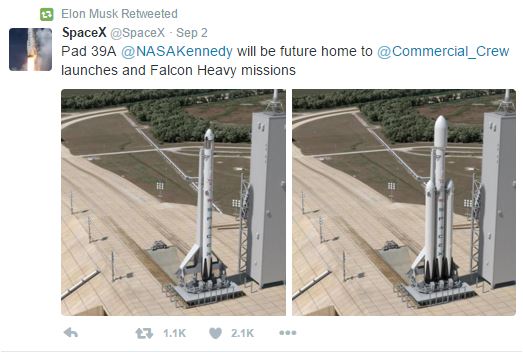 4.)    Mark Benioff, CEO, Salesforce (@Benioff), 197K followers: The CEO of this multibillion dollar cloud computing and CRM company typically tweets a few times a day. First observation: His tweets almost always include visuals (graphics or photos). The substance of them is versatile: Salesforce-related news, personal interests and personal causes (environmental protection, for instance).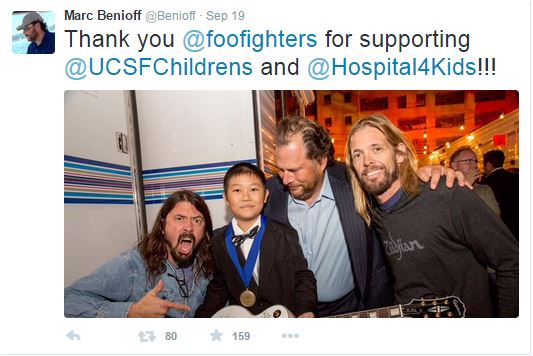 5.)     Richard Branson, founder, Virgin Group (@richardbranson), 6.5 M followers: Like Benioff, Branson is very graphic (photos mostly) heavy in his tweets.  The content of them largely surrounds his public policy and social causes with periodic updates on Virgin activities and developments and his personal insights on business and leadership.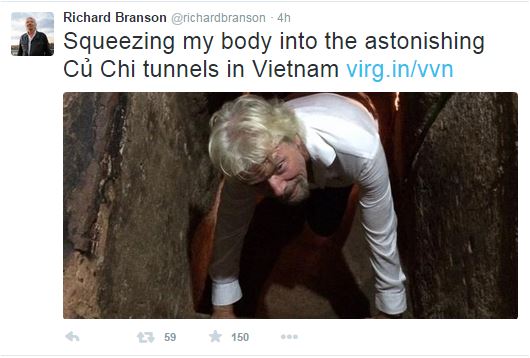 So what lessons can be drawn from these five hugely successful executives' Twitter engagement? There appear to be a few:
a.) The successful Twitter-using executive is not an island onto himself. Retweeting others and periodically engaging followers makes for a lively account;
b.) Since tweets are limited to 140 characters, a crisp writing style is important; and
c.) Keeping it light seems important. What with today's pressures, a major business executive's use of Xbox may bring someone, somewhere a much-needed smile.
And maybe that's ultimately pretty good for business.
(Updated on Dec. 22 2015)