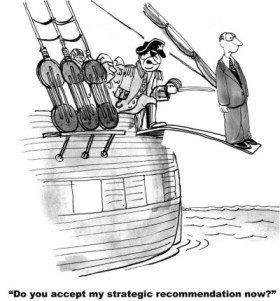 How can boards function more effectively? And what role can board members play in supporting the strategic objectives of the firms they oversee?
Harvard Business School Professor Boris Groysberg and doctoral student Jocelin Yo-Jud Cheng along several research partners (listed below) are conducting a survey that will help us answer these very questions.
Their preliminary analyses highlight the common pitfalls that boards fall victim to including not aligning the qualifications of directors to the board's most pressing needs. Here is what they are able to share with us at this point. Emphasis is mine.
1. Too little focus is placed on supporting talent development and management.

"41 percent of board members think that attracting and retaining top talent is a key strategic challenge for firms.  Yet, boards are doing little to support talent development and management. Only 13 percent of board members cite human resource and talent management skills as a key area of expertise when recruiting new directors."
2. Nomination and governance committees often do not deliver.
"One-third of respondents' boards do not regularly discuss CEO succession at the board-level, and 30 percent of board members think the nomination and governance committee is their board's worst functioning committee. Even though board members acknowledge these weaknesses, boards are doing little to bridge the gap."
3. Regulation and compliance functions remain challenging.
"As firms' operations become increasingly globalized, the complexity of regulations that board members contend with is rising rapidly. Boards report that increasing compliance requirements make them worry that they are taking a routine approach to addressing regulatory requirements instead of discussing implications for business."
4. Best practices needed.
"How can boards balance their regulatory role while still supporting management? Boards, when armed with the right skillsets, can serve as a strategic partner to management in achieving the firm's goals; however, some board members believe that the way boards can most effectively play this role is becoming more complicated and best practices are needed."
This is a work in progress. We will keep you posted as more exciting results come in. Special thanks to all the executives that we have solicited, to help complete this Harvard Business School Research questionnaire with their valuable inputs.
Boris Groysberg is a professor of business administration at Harvard Business School. His work examines how a firm can be systematic in achieving a sustainable competitive advantage by leveraging its talent at all levels of the organization.
Jocelin Yo-Jud Cheng is a doctoral candidate in the Strategy unit at Harvard Business School. Her research interests focus on succession planning processes and other issues related to strategic human resource management and personnel economics.
The Official Board is assisting Harvard Business School Professor Boris Groysberg and doctoral candidate Jocelin Yo-Jud Cheng in partnership with  Spencer Stuart Executive Search led by Julie Hembrock Daum, WomenCorporateDirectors Foundation led by Susan Stauberg and independent researcher Deborah Bell, in their groundbreaking study to help better understand the challenges confronting corporate board members.
More details about the results and the methodology.