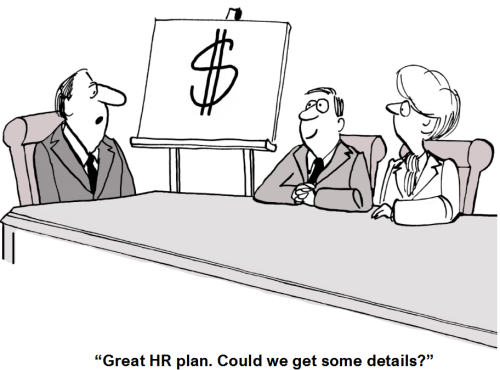 In our ongoing conversations with hundreds of senior executives around the world, we can't help but notice the obvious: Big, sweeping changes are underway in the global economy—and they are impacting the human resources profession in an equally big way.
We see at least twenty prominent trends impacting hiring, engagement, talent management and organization that warrant the attention of the CEOs and other executives crafting human resource departments and policies:
HIRING
1. Increasing competitiveness for top executives and employees: Despite a largely down economy globally and large numbers of those of working age not in the formal labor force, the competition for top talent is as fierce as ever—and getting even more so. What Deloitte has called the "talent paradox" (a large available labor pool and yet increased competitiveness for top talent) is forcing employers and recruiters to establish competitive approaches to their searches, their brands and their compensation and benefits offerings.
What do these top employee prospects ultimately want? The obvious, of course, include competitive compensation and benefits. But the not so obvious may be the real differential, including a willingness to partner with candidates in meeting mutual expectations, including accommodating a prospect's career development goals, offering a certain degree of flexibility in an employee's work schedule and recognizing their accomplishments along the way.
2. More efficient recruiting: In a CareerBuilder survey, the duration and inefficiencies in hiring processes were listed by 35 percent of large company CEOs as a major concern. An even greater number, 48 percent, said their company had lost revenues as a result of the vacancies associated with the lengthy nature of the hiring process.
Motion Recruitment Partners' director of talent acquisition Amy Caswell is proposing six metrics that human resource departments should maintain to enhance efficiency and measure the success of recruiting process.
3. Human resources is marketing: Human resource executives are coming to realize that their recruiting success relies more and more on their employer brand—specifically, whether that brand is or is associated with being an appealing place to work and build a career by top employee prospects.
This has begun to blend the marketing and human resource functions in an unprecedented way as many companies seek to position themselves competitively as an employer of choice. In a survey reported by Bloomberg, 89 percent of human resource professionals agreed "recruitment is becoming more like marketing."
4. Employees as the employer brand: Consistent with the growing emphasis on the development of employer brands, human resource professionals increasingly see their employees as perhaps the best marketing tool as they position their respective companies to develop their employer brand identity. Happy employees tend to create the sort of buzz that makes a company an appealing place to work (and the opposite, of course, is also true).
Increasingly, the job of human resources is to better personalize the recruiting process and to remove the stale corporate face of employers. Cisco's social media manager for talent recruitment Carmen Collins described this personalization process: "The co-worker tone".
ENGAGEMENT
1. Establishing and maintaining high levels of employee engagement: Organizational culture is an ever-increasing focus for human resources executives, especially including getting employees sufficiently engaged. In fact, a survey conducted by the Society for Human Resource Management (SHRM) found that human resource professionals said that engaging employees was the single greatest current challenge they confronted.
But what accounts for the variance in employee engagement from company to company? Perhaps not surprisingly, A Gallup survey found that seventy percent of it is attributable to variations in the quality of management.
2. Employee skills and training: Your employees arrive with a lot of skills, of course. Otherwise, why would you have hired them? But it's up to human resource executives, in partnership with company executives, to ensure those skills are continually up to date and expanded. This is particularly true with so-called "soft skills."
An Adecco study found that 44 percent of senior executives cited soft skill deficiencies as the biggest deficiency gap facing their employees. Human resource departments are increasingly charged with addressing skill deficiencies such as these with tailored training or other programs.
3. Employee wellness: Companies with cutting edge commitments to human resources and in enhancing their employer brand take the development of wellness, vacation and leave programs seriously with the goal of maintaining a healthy and energized workforce. In fact, an emerging industry of contractors is offering employers such plans, and others are developing them internally, knowing that an effective workforce start with a health workforce.
SHRM studied the trend in wellness programs last year and found that 70 percent of United States employers now offer some form of wellness program (up from 58 percent in 2008). The trend has given birth to an entire industry of emerging wellness companies, such as Fitbit, Wellness Corporate Solutions, Medfit and others.
4. Navigating health care regulations and mounting health care costs: In most countries, the law mandates health services that must be covered and requires companies to expand reporting to the governments of various employee data. Human Resource departments also are charged with confronting and addressing the challenge of rapidly ascending health insurance costs.
Health insurance is presenting a paradox to human resource executives. One on hand, it remains an expectation of employees that top employers will provide suitable health insurance coverage. On the other, the costs of this coverage are emerging as one of the most significant employee overhead costs confronting these companies. Human resource executives are often caught in the middle, trying to maintain an appealing and competitive insurance offering that can attract top talent while also being responsive to legitimate operational budget concerns.
5. Managing changing regulations governing overtime: All over the world, changes are occurring at a rapid pace in the regulations governing the definition and compensation requirements of overtime, including in the U.S.
In new regulatory guidelines released this month in the U.S. by the Obama administration, the maximum salary for overtime eligibility has more than doubled, from $23,660 to $47,446. The U.S. Department of Labor has estimated that some 4.2 million additional American workers will be eligible for overtime compensation under the new regulations. But critics of these new regulations contend that they will prove very costly on business and possibly lead to job losses and decelerated hiring. Managing the new regulations, needless to say, are requiring human resource executives to be familiar with the regulatory changes and the associated impact on companies' SG&A expenses.
TALENT MANAGEMENT
1. Baby boomer retirements: It's been predicted for decades, and now it's finally happening: The baby boomer generation (those born between 1946 and 1964) are beginning to retire, though at a slower pace than many predicted. Nonetheless, this mass exit from the labor force of this large segment of the population is leaving significant skill vacancies and placing pressure on search executives to replace seasoned, capable employees.
This year alone, some 4.2 million American baby boomers are estimated to retire from the workforce. And it will get vastly worse in the decade to come. A study earlier this decade by the Pew Research Center concluded that 10,000 American baby boomers are retiring each day—and it's a trend that will continue through 2030.
2. Managing the millennial employee: Just as the exodus of the baby boomer generation from the workforce is presenting immense challenges to companies, the ascendance of millennial employees (those born between 1977 and 1992) is proving equally challenging.
The work habits, capabilities and expectations of the millennial generation vary considerably from those before them. For instance, Workplace Trends surveyed these employees and found that an astounding 91 percent of them aspire to leadership positions. A separate detailed study of millennial employees by Adecco reached a similar conclusion: Millennial employees' biggest priority is obtaining their ideal job within the next decade. But the millennial generation is simultaneously resistant to over-management or micromanagement with an overwhelming 83 percent saying they prefer companies with fewer management layers.
3. Individualized employee management: The challenge of identifying the strong preferences of the millennial generation is one component of an even larger trend: Beginning to manage employees as individuals as opposed to the historical one size fits all approaches to management. Is the pace of work too fast or too slow for an employee? Is the managerial oversight too extensive or not sufficiently engaged? What sort of career goals does the employee possess and has management placed them on a compatible course? All are hugely impactful and yet personalized managerial and human resource challenges.
Not surprisingly, there exists a different answer to these questions for each employee, and each points to conclusions about the need for more individualized managerial approaches to them.
4. Succession planning: Competently managed companies maintain active succession plans for their top executives, or at least for their CEOs, and the responsibility for this is falling in part or full on human resource executives.
Succession planning has historically been one of the most neglected human resource functions. In fact, according to a SHRM report, approximately 40 percent of companies are currently failing to address succession planning.
5. Assessing the annual review: A final trend confronting human resource executives is growing scrutiny and recognition of the deficiencies of annual reviews, leading to a growing trend by companies to replace them with assessments they deem more suitable. This led SHRM to pointedly ask last year: "Is the Annual Performance Review Dead?"
Many prominent companies, including Accenture, General Electric and others, have already abandoned the annual performance review, and many feel the list of such companies will only grow in the year and years to come. "We're in the early stages of a revolution," Glint CEO Jim Barnett told SHRM. "Progressive HR leaders are realizing that they need continuous, real-time feedback and solutions," he says. That, of course, is not how the traditional annual performance review is structured.
ORGANIZATION
1. HR as a business partner: Today's effective human resources executive is the quintessential business partner—aligned with corporate goals and strategy and engaged in utilizing human resource functions to achieve both for the long term.
Wharton Management Professor Peter Cappelli warned us in Harvard Business Review about what he labeled the "personnel pendulum": "Usually when companies are struggling with labor issues, HR is seen as a valued leadership partner. When things are going more smoothly all around, managers tend to think, 'What's HR doing for us, anyway?'"
2. Consumerization of human resources: The human resources profession is in the middle of an ongoing trend toward becoming vastly more digital, social, and collaborative. One of those manifestations is Twitter, Facebook and other social mediums becoming nearly essential components of companies' executive search and internal communications functions.
In other words, social media in HR is no longer cutting-edge; it is mainstream.
3. Mounting employee expectations for workplace flexibility: The average U.S. employee workweek is now 47 hours, and two studies last year by Workplace Trends point to the emerging quandary: Sixty four percent of managers expect employees to be accessible for work after hours, according to Workplace Trends' February 2015 study.
But another Workplace Trends study four months later, in June 2015, found that over 50 percent of employees report feeling "burnt out." Again, human resource executives increasingly find themselves balancing seemingly conflicting sentiments and agendas.
4. Decentralized work sites: Technology now permits many employees to perform their responsibilities from remote locations or home, which presents both an opportunity and challenge for human resource executives. On the positive side, this ability is vastly expanding the potential talent pool from which companies can select since they are no longer strictly restricted by geography.
The challenge is that managing remote employees is a new function for many company department heads. Human resource executives are now charged with managing employee policies and logistics for this untraditional employee.
5. To outsource or not: The practice of outsourcing various functions, especially seemingly more menial ones like call centers, to lower cost marketplaces has been ongoing for nearly three decades now. But now the practice is under unprecedented scrutiny and many employees are looking at it with understandable criticism.
In Indianapolis earlier this year, for instance, an announcement by Carrier that they were relocating their manufacturing facility to Mexico sparked a national uproar that even made its way into the 2016 U.S. presidential debates. This fear of outsourcing presents human resource executives with a challenge to both recruitment and employee morale. Cost management may point to outsourcing as a solution but top employees understandably expect what they see as stability and employer loyalty.
6. Data, data, data: The acquisition of talent pool data and the management of recruiting and human resource metrics are increasingly both available to and necessary for human resource executives. That which is important is measured, and human resource departments are now increasingly developing metrics that long have driven business processes in other corporate functions, such as finance, operations, and sales.
A survey conducted by CareerBuilder found that ninety percent of CEOs at large companies expect human resource executives to be proficient with workforce analytics. Greta Roberts, CEO of Talent Analytics, insists that human resource data should focus on business metrics (make their sales revenue, have a high customer service rating, or last in the role at least 12 or 18 months) rather than human resource metrics (speed of filling vacancies or minimalizing number of openings, for instance). These metrics may answer the more subjective expectation placed on recruiters, often worded as: "Get me more candidates like her." With metrics agreed upon by human resource and hiring departments, that subjective description is becoming more quantifiably measurable and further integrating human resources into the core metrics of their company's performance.